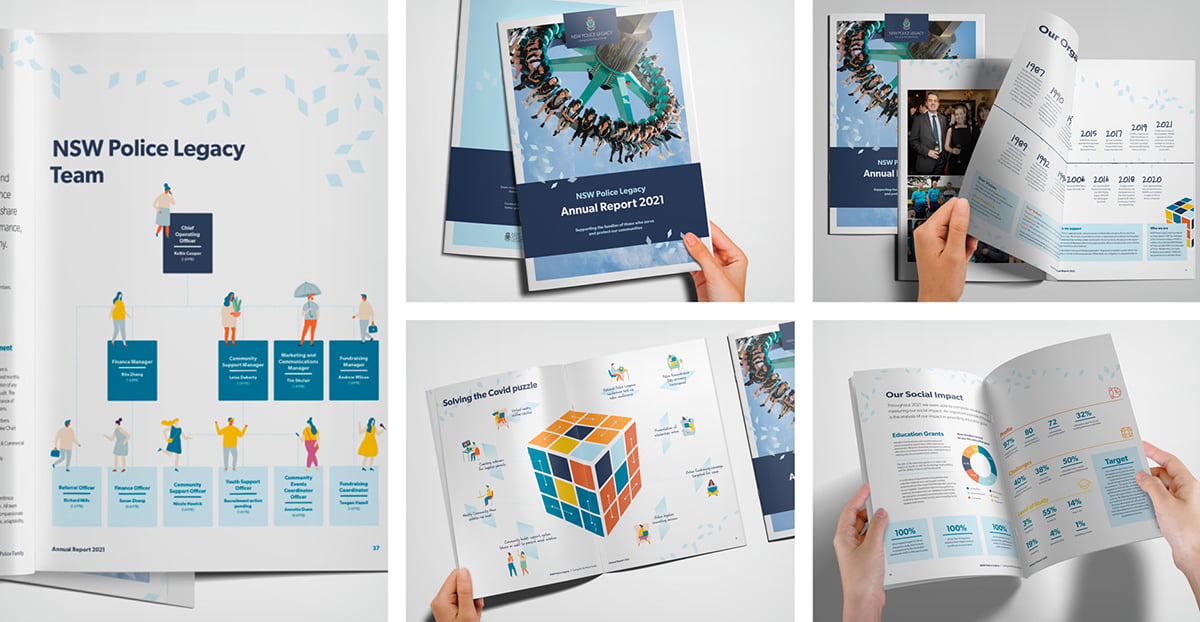 Reports and brochures are an excellent way for companies to demonstrate the impact and importance of their offering to the people that matter most to them. There are many ways to make your report impactful. Stories, quotes, charts, graphs, infographics, and case studies will make your report more engaging and these assets could be used in broader marketing initiatives such as blog posts, social media and advertising campaigns. These are our top tips for designing an incredible annual report not to mention impact report, sustainability report, reconciliation action plan, modern slavery report and so many more. The same principals apply.
Don't underestimate the time and efforts involved in pulling off a good report. Creating one is an enormous task that involves a lot of work and a considerable amount of time. Most reports take months to complete, even when things go smoothly. It takes a lot of time to go through the planning process, interview the right people, research, and then actually write the copy, concept the design, and then roll it out across the whole document. Plus, there will be multiple rounds of sign-off (probably with various stakeholders) and a couple of rounds of proofreading at a minimum. We've been known to have 14!!! It may have been the most we've ever seen.
So if you have an important deadline, such as government funding, AGM, review, or campaign launch date, you need to consider your report months earlier. For example, the reports we have produced for various financial institutions have taken us six months from start to finish.
Start with your "why"
Before you start the concepting and commissioning of a writer and graphic designer, take a step back and think about why and what you want to achieve when creating your report. Start our report project by sitting down with the client, asking them the important questions, who it's aimed at and what message they want to convey. Getting this right from the outset helps bring the whole report together with a clear purpose and narrative, ultimately making your report more user friendly.
A great Report starts with a great plan
We spend a lot of time at the start of a report project making sure we've planned all of the details and timelines so everything is noted, which could create unnecessary dramas down the line. Budgets, page count and rough word counts are all necessary considerations, who's writing and designing it, and where you will source graphics and photos. In terms of content, it's important to be clear on where the information for the report will come from. Who? And how many? Scientific papers or other materials like presentations and documents? This is where a good copywriter will come in handy. Another potential issue is needing to be clearer on the number of rounds of revisions. Once it is complete, who has the final say for approval and ultimately sign off? Get them involved from the outset. If you don't have a revision process outlined and agreed upon in advance, it could cause budget and timeline blowouts.
Craft your content
Once your plan is established, it's essential to start an overarching narrative that captures the report's overall direction, tone, and message. A detailed flat plan outlining page headings and the main points, including word count for each page. A well-thought-through flat plan will save a lot of headaches later. While writing and designing, it is essential that your copywriter and graphic designer stick to the approved plan.
Perfect project management
Have a talented and experienced account manager is a must when wanting to pulling off a great report with a short timeline, limited budgets and with minimum stress. A dedicated account manager will maintain relationships and make sure your project stays on track as the project.