What could be better than a week of inspiring design installations and exhibitions, scattered around one of the most stylish and creative cities in the world? Having these design exhibitions incorporated with very cool breakout spaces where you can refuel with a Campari Spritz and a stuzzichini whilst ogling some of Milano's finest private internal courtyards and architecture – that's what! Every April for a week, Milan puts on a show of creativity and cutting-edge design with Milan Design Week that draws an international crowd looking to soak up the inspiration and atmosphere and I was lucky enough to be part of the action.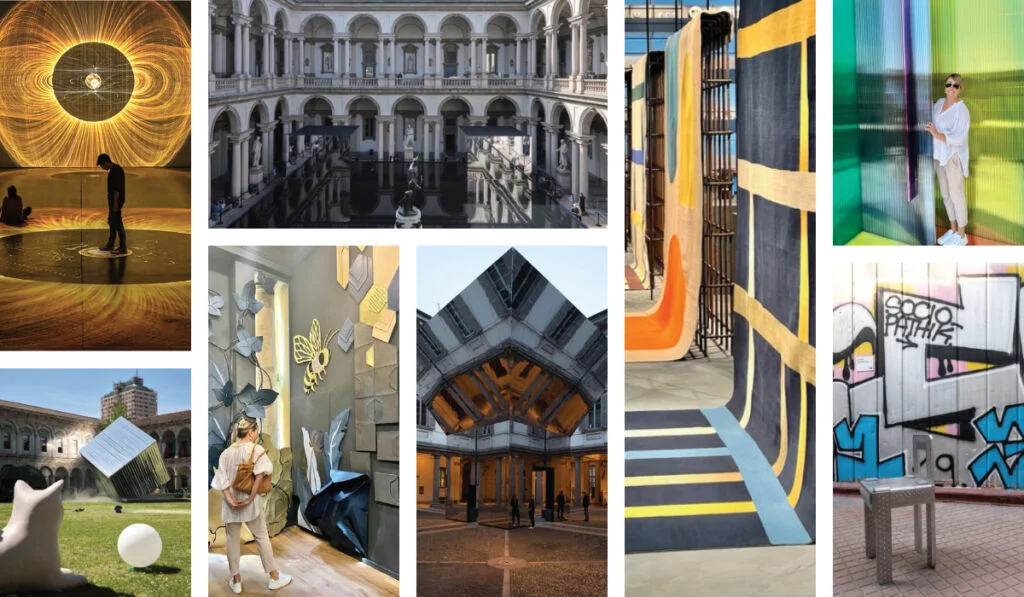 Inspiring creative design
I'm not sure what I enjoyed more, Apertivo hour where I got to people watch (an international bevy of designers strutting their very stylish stuff on the streets of Milan), or discovering some of the most inspiring creative design I've seen in a long time. One thing is for sure, Milan's Design Week is inspiration overload! From Graphic Design to Photography and from Art to Architecture, your choice of inspiration is mind boggling. Throw in talks, workshops and site-specific installations and you have a multi-disciplinarian, cutting edge design fest all set against a backdrop of gorgeous Milanese Gothic and Romanesque architecture. For this week in April every year, Milan is on a mission to promote and showcase some of its finest Italian design and creativity, and it doesn't fall short when using its historical beauty to highlight its future design innovations.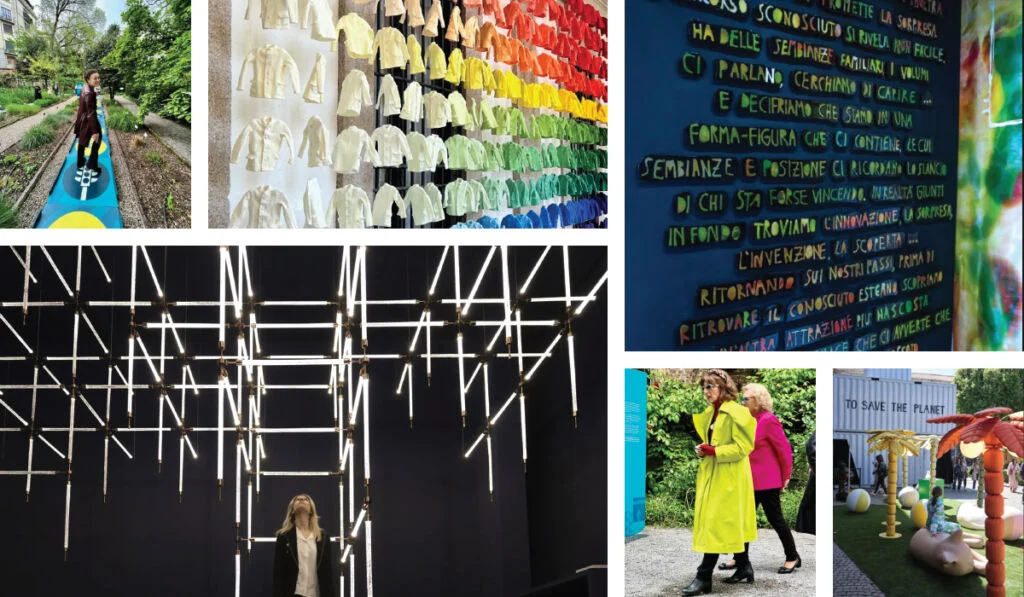 The hidden beauty of Milan
Milan is a city you need time to discover, its beauty is often hidden, unlike other Italian cities like Rome and Florence where beauty is everywhere and hits you in the face upon arrival Milan's beauty is discovered in secret nooks and crannies and is often missed in the whirlwind tour of its more well-known sights like the Duomo and pricey shopping precincts like Via Montenapoleone. Design week is an opportunity to discover these hidden gems as private internal gardens, homes and courtyards are opened to the public as display areas. Giorgio Armani, for the first time opened the doors to his 17th century Palazzo Orsini, the headquarters of the Maison, to showcase the Armani Casa collection – swoon! Then of course there are streets in the historic centre of Brea brimming with richly decorated and frescoed bottegas filled with design exhibitions, and Corso Como and The Universita get to show off their architectural splendour with Installations gracing their open spaces and oh so gorgeous rooms.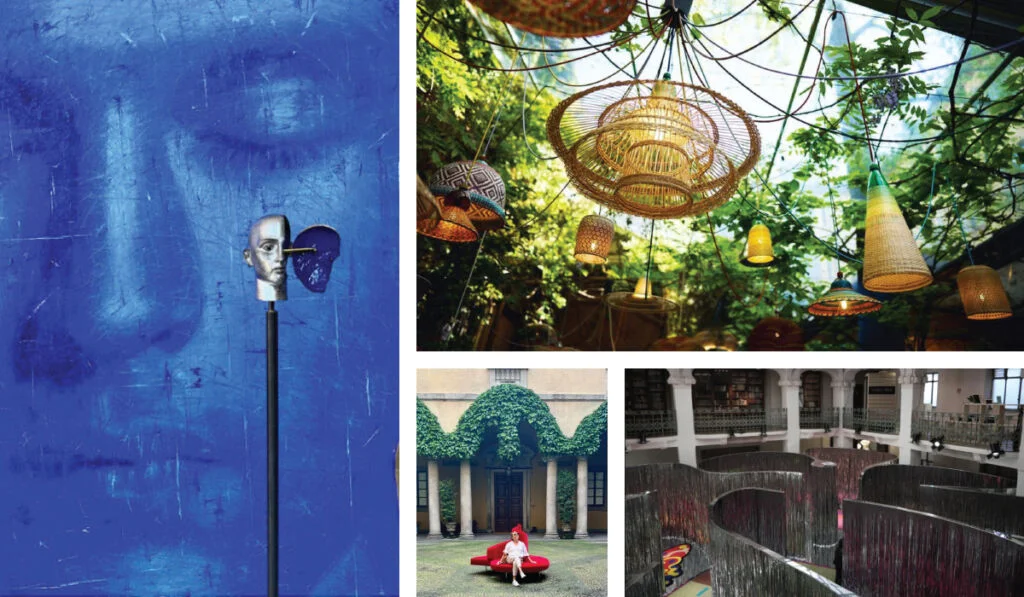 Sustainable design
What I also found really impressive was the focus on sustainability in design and many of the installations took the opportunity to educate the viewer on how design has a responsibility to the future. Recycle, reuse, repurpose, regenerate and a focus and appreciation on the natural environment was very much present. As was the merging of very futuristic multimedia and audio-visual installations with the natural world of water, wood and stone was a common theme. For example, Brera's historical Botanical Garden dates to the 14th century, its hidden behind the southern wall of Palazzo Brera, a kind of romantic green oasis nestled between the ancient buildings of Milan's historical centre. These gardens had a very cool installation called Walk the Talk that simulated a life-sized board game of sorts where you followed a series of graphic icons through a perfumed flowering garden. Just like a board game, there were twists and turns whilst answering questions that focussed on how aware you were on sustainability when choosing mobility solutions especially in urban areas.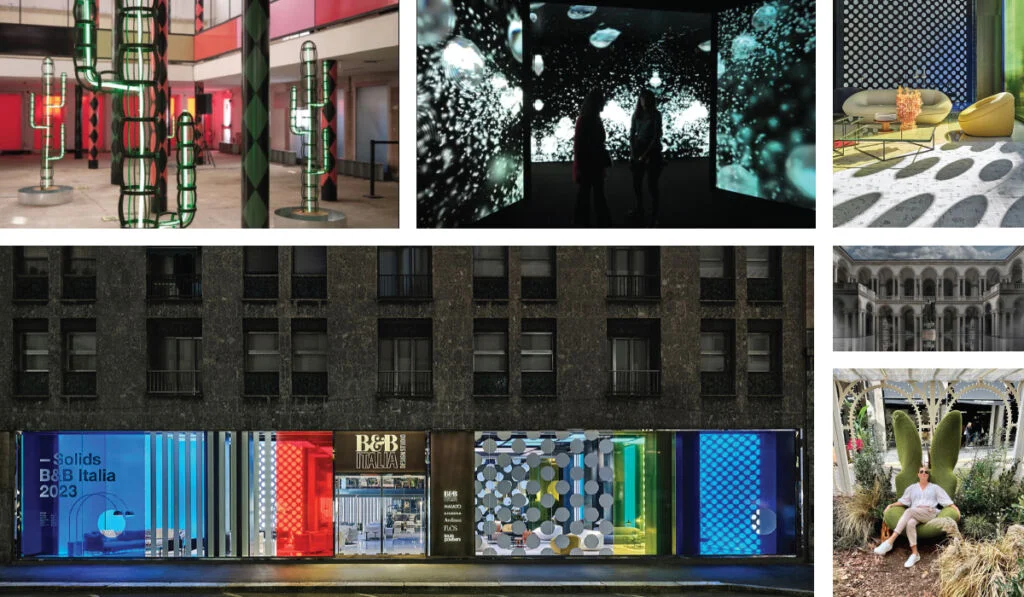 To conclude
In one week of pounding the pavements of Milan getting my daily dose of design inspiration I think I saw over 100 different installations and discovered a cornucopia of new talent and beauty. I would need a blog for each to really do the designers, photographers, illustrators, architects, digital designers and artists justice. Italian Design and craftmanship has always been celebrated and admired, Italians just seem to have a natural sense on how to make the world a more beautiful place. As a graphic designer, we draw our inspiration from many different sources and platforms, having an event like Milan's Design Week (or Fuori Milano as the Italian call it) which is jam packed with creativity in every possible type of design medium is a graphic designer's dream come true. One thing is for certain, I will be returning to Sydney and my own creative studio full of new ideas and inspiration, not to mention a few extra kilos from all that amazing Italian food that kept me fuelled on my design adventure, but that's a whole other story (and blog post!). Visit Fresco Creative to see how we can help inspire your next project!