One of the important early Australian design exhibitions was 7 Designers held at the David Jones Art Gallery in Sydney from 30th September to 15th October 1948. Amongst the display items were things such as industrial and advertising design, furniture, paintings, silverware, pottery, fabrics, ornaments, and costume. 

The catalogue and the invitation for the exhibition were designed by Gordon Andrews (1914-2001) who was an amazing Sydney-based designer that put together numerous catalogues for David Jones during the late 1940s! He was not only a brilliant Sydney designer but also an internationally recognised industrial designer, sculptor, painter, photographer, silversmith, and illustrator. 
Starting out as a junior commercial artist with an advertising agency in Sydney, Gordon Andrews quickly gained experience and expanded into other roles that led him to work in advertising in London for several years before coming back to Australia in 1939. In Australia he worked on many significant design projects including ones for the Australian government that led to the design of the logo for the Reserve Bank of Australia and the designs for Australia's 1966 decimal currency series.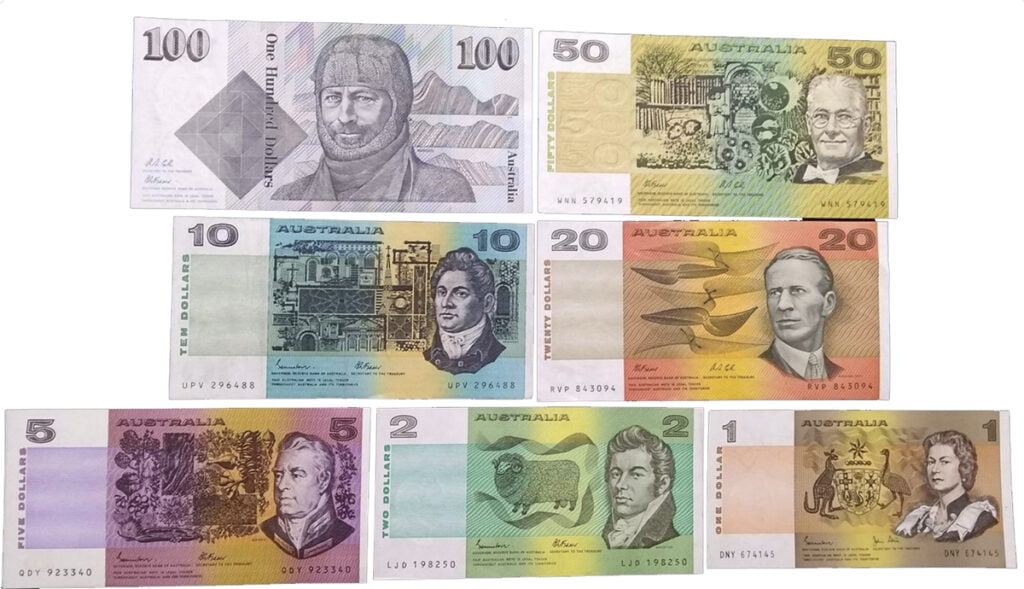 Although the design achievements of Gordon Andrews reach across many worlds including commercial art, industrial design, sculpture and graphic design, he is arguably best known for the artistic 'wave' design of Australia's decimal currency banknotes. 
Designs for the Australian bank notes pushed existing design boundaries. They broke away from the rigid and formulated design styles that Australia and the rest of the world had been used to seeing. The colourful and richly layered designs that made use of bold graphics were considered very contemporary at the time.
When the Australian bank notes moved to the plastic polymer version we have today Gordon Andrews sat in as an advisor and consultant for the new designs. 
In 1985 Gordon Andrews was awarded the gold medal by the Design Institute of Australia adding to other recognitions of becoming the first Australian designer to be elected a Fellow of the UK Society of Industrial Artists and Designers, and membership of the Faculty of Royal Designers for Industry and the Alliance Graphique Internationale.
If you are interested in pushing the boundaries of design in your next graphic design project, then get in touch with us at Fresco Creative. We have a team of experienced and talented Sydney graphic designers who are ready to start working with you!