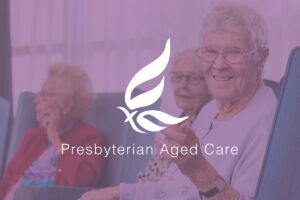 The Design Challenge
Presbyterian Aged Care is one of Australia's largest and most established providers of Aged Care Services. PAC currently runs Home Care, Retirement Villages and Residential Aged Care across NSW and ACT.
Fresco Creative needed to develop a new brand strategy, visual identity, design collateral and tone of voice – to better reflect the brand values the organisation stands for.
Our brief was to create a new identity that positioned PAC as a specialist aged care provider with a distinctive approach to care and customer service. Fresco's challenge was to reflect the shift in perception from Aged Care being the last stop on the road and the final chapter before a steady decline to seeing retirement and Aged Care as another positive period of life to be enjoyed to the full.
In addition to the sense of care and support, PAC provides its residents, the new brand needed to communicate "Positive Ageing" and all this encompasses. Choice, freedom, and a fully participating involvement in activities that promote health and wellbeing formed the strategy behind the creative tone of the new brand. Fresco also needed to reference PAC's religious belief system that underpins the values of the company.
The Fresco Solution
The brand assets Fresco created for PAC communicate life lived to the full, a vibrant community, health and vitality, fun and choice. The brand also makes clear reference  to PAC's religious belief system that underpins the values of the company.
This Fresco design strategy impacted all brand assets from the logo mark through to the messaging, photography treatment, straplines and through to all copy and content. In this way PAC's marketing and design is consumer centric rather than product and service focussed which ultimately resulted in the brand creating far more customer engagement and loyalty. The feedback so far has been all positive – from staff, carers and from residents.
As branding experts we all know that customers are never buying your product or service, they are buying your values, your story, an emotion and that good branding connects to the mind but really great branding connects to the heart. PAC's new branding makes a heartfelt connection with its audience an outcome that has positioned PAC at the forefront of Aged Care.